Chris Nield's continued recording of our resident bird life helps to prove how vital the Carrs is to encouraging species diversity and how the varied habitat is working.
GATLEY CARRS BIRD REPORT MARCH 2022
The weather in March was a real surprise. It was the warmest March on record. Pleasant days with warm sunshine continued throughout most of the month. Great weather for getting out and seeing Spring unfold.
My first visit of the month was with AB and it really was surprising. On a grassy area in front of the pond several birds were feeding, a Song Thrush was feeding and 2 larger paler Mistle Thrushes were close by. The surprise was 2 late staying Redwing feeding alongside the others. They were probably feeding up before setting off on the long journey to their breeding grounds. A male Blackbird was here also. Really good to see 4 Thrush species all together. Around the Reserve a total of 4 Song Thrush and 3 Blackbird seen and heard in song. Other birds in full song included Goldfinch, Greenfinch, Robin, Wren and Dunnock.
The Pond was rather quiet with just 2 Domestic Ducks, 12 Canada Geese, 4 Moorhen and 2 Moorhen. Although the trio of Mandarin were still around we did not see them.
On my next visit again with AB and also pal LH, as I was waiting to meet them I saw a pair of Dunnock busy chasing through the trees in courtship display. Also a recently fledged Wood Pigeon on the bird table.
On the Pond 3 Domestic Ducks, 17 Canada Geese, 4 Mallard and also 4 Moorhen. In the trees above were 2 Grey Heron, one was a juvenile, possibly just having left the nest. As we walked away from the Pond a Buzzard was flying above us. Great to see there were actually 3 birds with 2 in courtship display. Such a beautiful sight to see against the clear blue sky. At least 3 pair of Long-tailed Tit seen. One pair were seen with nest material. Plenty of Blue and Great Tit were seen close to nest box areas a few seen carrying feathers too. At least 2 Nuthatch were singing around the Reserve.
On the 14th March JL got in touch to tell me she had found the first spring Chiffchaff migrant of the year. Her image taken that day has been included in this report. Josie thought there was possibly 2. There had been a massive arrival in many parts of the country the same day as Josie's find. Chiffchaff are always the first migrants to arrive often on exactly the same date each year. They will return to the exact territory they bred in the previous year.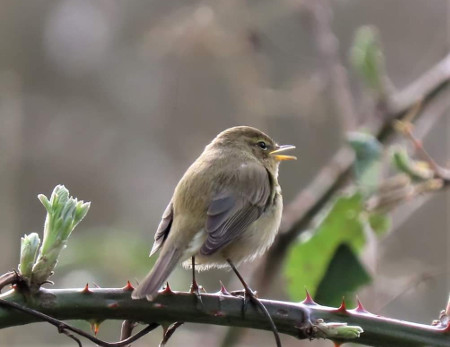 Chiff Chaff Courtesy of Josie Liebrick
Nature is never dull. Often very surprising but most of all incredibly beautiful.
And it is free entertainment.
GATLEY CARRS BIRD REPORT JANUARY/FEBRUARY 2022
January 2022 was the warmest on record. During the month we had 2 serious Winter Storms bringing in strong winds and heavy rain. Certainly not good weather for walking around the Carrs with so many trees that could blow down. Of course birds hunker down too so it is pointless trying to see them. Eventually I managed to get there hoping to see the Mandarin Duck pair that had arrived at the Pond. They were origininally reported earlier in the month by James Arkwright Although they stayed throughout January they were very elusive and I never got to see them. On my next visit it was still very quiet around the Reserve. I counted 20+ Mallard, 6 Moorhen and 3 Domestic Duck. A Grey Heron was by the Pond as well as the ever present Ring-neck Parakeets.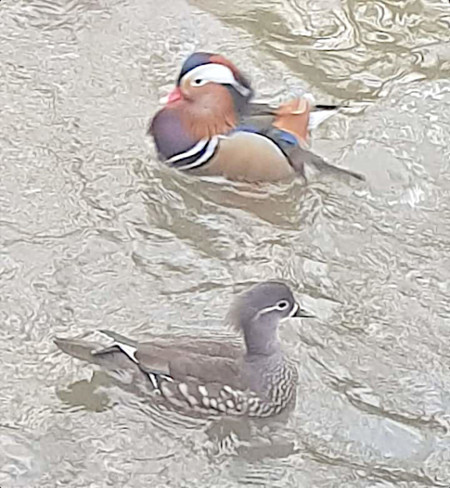 Image courtesty of James Arkwright
On the 29th of January it was the RSPB Garden Bird Count. A few of us met at the Carrs to carry out the walk around the Reserve to see how many species we could find. The weather was quite kind to us so it was really pleasant on the Reserve. The total number of species seen was 20! The best bird of the day was a Sparrowhawk. Peter Owen, Angela Bent and I were on the car park when I spotted a bird on top of a tree in front of us. Obviously it had tried to take a bird. It flew up and soared above us, circled a few times, then moved away. Such a lovely sight to see and much enjoyed.
Early February we had the third Winter Storm which was the worst of all. it produced up to 90mph winds which caused so much damage to many Nature Reserves. Eventually it did quieten down and became quite pleasant. On my first visit to the Reserve, on the Pond, I saw 15+ Mallard, 3 Domestic Duck, 8 Moorhen and 4 Canada Geese had arrived. Around the Reserve quite a few birds were starting to sing including Blackbird, Robin, Dunnock, Goldfinch, Woodpigeon and Collared Dove. Along the brook path a pair of very noisy Ring-neck Parakeets were around and I do not doubt that they are already nesting nearbye. A Nuthatch was also in this area close to the Dipping Pond. It was also very nice to see a Blackbird on the ground amongst the Snowdrops that were in flower.
Spring is just around the corner and a great time to be at Gatley Carrs.
Chiff Chaff Courtesy of Josie LiebrickNature is never dull. Often very surprising but most of all incredibly beautiful.And it is free entertainment.