Chris Nield's continued recording of our resident bird life helps to prove how vital the Carrs is to encouraging species diversity and how the varied habitat is working.
GATLEY CARRS BIRD REPORT MAY/JUNE 2022
As expected May was a very busy month for the Birds at Gatley Carrs. Plenty of birds in full song all around the Reserve. These were mainly 3 Blackcap, 4 Chiffchaff, 4 Blackbird, Song Thrush, Robin, Dunnock, Goldfinch and Wren. The Pond was quite busy with at least 12 Canada Geese. One pair had 2 young and another pair had 4 young. Just 3 Domestic Ducks seen. Sadly this became 2 by the end of the month. Originally we had 12 Domestic ducks of different breeds, now we have just 2. Sadly we will never know what has happened to these birds. This environment was never right for them and I hope no more are introduced or dumped onto the Pond. On a more positive note CM gave me a "heads up" of a pair of Treecreepers seen at a particular location. This has long been my bogey species at Gatley Carrs. In the 8/9 years I have been there I have seen just 3! On my first visit to the location there was no sign of the birds at all. I went back again later but again nothing at all. A few days later I tried again and saw both birds at the nest site. I was thrilled to see these superb little birds. Excellent! Thanks Chris M. Other birds of note during the month were Swifts seen above the Reserve on several dates. Several House Sparrows nesting around the grassy areas. These birds are sadly in decline so it is good news they are doing so well here.
Early in the month, on one visit, I heard a Willow Warbler singing. I have heard this species singing here before but usually in mid April, when they stop off for a rest then fly on. This was the first time I heard and seen one in May. A few days later I checked the location again. Most warblers are faithful to a particular area and will return every year even to their favourite tree. He was there singing again. Suddenly a second bird arrived close to his tree it was definitely another Willow Warbler. I was certain it was a female, he would have chased a male away. I have never seen 2 of this species here before. On my last visit of the month I saw both birds carrying vegetaion to some dense vegetaion. Amazing!! I do not think this species has nested here before so possibly we have a new breeding species at GC.
JUNE: On my first visit to the Reserve the Pond was pretty quiet just a few Mallard and only 2 Domesic Ducks. At least 12 Moorhen including the juveniles came to feed but no sign of any Canada Geese. On approaching the Pond a very wet dog came running towards me so no wonder there were very few birds about. Several sighting of a Buzzard and Sparrowhawk was seen twice too. A nice sighting on another visit was the 8 Sand Martins I saw. They were above the Pond and dropping down to scoop a quick drink before they flew off again. I was really pleased to see them as I have never seen them at GC before. Several new broods of young birds were seen around the Reserve. 2 broods of Long-tailed Tit 6 and 8. 2 broods of Blue Tit 6 and 7. One brood of Grest Tit 5. At least 5 juvenile Blackbird and sevaral Collared Dove.
I decided to do a very early morning visit to GC. It was a bright pleasant morning and at 6:45 am I was totally alone on the Carrs. It was a riot of song as birds were waking up and warming up to a new day. So many different birds were in full song. Notably at least 6 Song Thrush could be heard around the Reserve. An excellent number considering that at my Shell Reserve, a much larger Reserve, we usually have 2 or 3. Blackbird, Goldfinch, Greenfinch, Bullfinch, Robin, Dunnock, Collared Dove,Wren and Starling all joined in too. I deliberately left my binoculars at home. Birding is not just about what you see but what you hear too. This was a morning I will never forget just me and the birds.
It certainly lifts the Spirit and gives you a feel good factor for the rest of the Day. Nature certainly has calming healing powers. Try it sometime.
GATLEY CARRS BIRD REPORT APRIL 2022
The weather in April was quite pleasant until months end. Heavy rain and strong winds persisted for a few days. Certainly April showers at their best.
Spring was certainly on its way as many birds were in full song including Robin, Goldfinch, Blackbird, Wren and Dunnock. 2 pairs of Song Thrush were seen carrying nest material. Several Blackbird, House Sparrow, Magpie, Woodpigeon and Collared Dove were also seen flying over with beaks full. Around the Reserve Great and Blue Tit could be seen around many of the nest boxes. The 2 Nuthatch I saw last month were also busy on their territories. The first returning Blackcap was heard first week in April and by months end increased to 6. Only 4 Chiffchaff singing so far this month. Well down on last year's count of 10. Of course, it is possible not all those birds stayed on to breed. If they are not successful finding a mate they will move on to another area.
On the Pond 17 Canada Geese, 6 Moorhen and 3 Domestic Ducks. At least 4 Ring-neck Parakeet were close by.
2 Buzzard were seen on several dates and a Sparrowhawk too. Excellent news was the sighting of a Kestrel seen by CM. When I first started doing these reports I often saw them on the telegraph poles and wires along the motorway. The trees have grown so high it would not be possible to see them now if they were there.
4 Stock Dove were in the trees along the Top Field. Stock Doves have a "prettier" look, and are very different to the larger, gregarious, Woodpigeon that frequent many of our gardens. It is quite special to see them at GC. Usually they are found in farmland and rural areas. They nest in holes in old trees and will use old farm buildings too. I am often asked "why do we never see baby pigeons"? The reason for this is they do not leave their nest sites until they are fully feathered and are able to fly and feed themselves.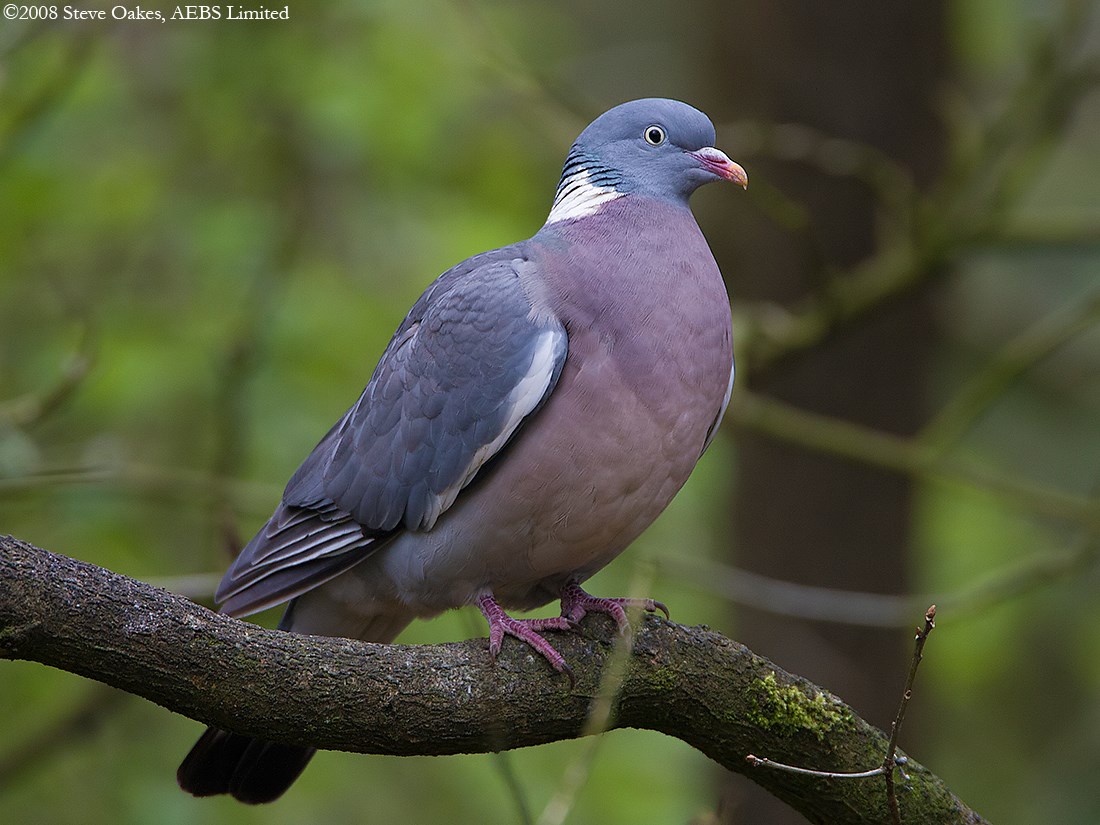 Nature is certainly amazing and it is free for us all to enjoy.
GATLEY CARRS BIRD REPORT MARCH 2022
The weather in March was a real surprise. It was the warmest March on record. Pleasant days with warm sunshine continued throughout most of the month. Great weather for getting out and seeing Spring unfold.
My first visit of the month was with AB and it really was surprising. On a grassy area in front of the pond several birds were feeding, a Song Thrush was feeding and 2 larger paler Mistle Thrushes were close by. The surprise was 2 late staying Redwing feeding alongside the others. They were probably feeding up before setting off on the long journey to their breeding grounds. A male Blackbird was here also. Really good to see 4 Thrush species all together. Around the Reserve a total of 4 Song Thrush and 3 Blackbird seen and heard in song. Other birds in full song included Goldfinch, Greenfinch, Robin, Wren and Dunnock.
The Pond was rather quiet with just 2 Domestic Ducks, 12 Canada Geese, 4 Moorhen and 2 Moorhen. Although the trio of Mandarin were still around we did not see them.
On my next visit again with AB and also pal LH, as I was waiting to meet them I saw a pair of Dunnock busy chasing through the trees in courtship display. Also a recently fledged Wood Pigeon on the bird table.
On the Pond 3 Domestic Ducks, 17 Canada Geese, 4 Mallard and also 4 Moorhen. In the trees above were 2 Grey Heron, one was a juvenile, possibly just having left the nest. As we walked away from the Pond a Buzzard was flying above us. Great to see there were actually 3 birds with 2 in courtship display. Such a beautiful sight to see against the clear blue sky. At least 3 pair of Long-tailed Tit seen. One pair were seen with nest material. Plenty of Blue and Great Tit were seen close to nest box areas a few seen carrying feathers too. At least 2 Nuthatch were singing around the Reserve.
On the 14th March JL got in touch to tell me she had found the first spring Chiffchaff migrant of the year. Her image taken that day has been included in this report. Josie thought there was possibly 2. There had been a massive arrival in many parts of the country the same day as Josie's find. Chiffchaff are always the first migrants to arrive often on exactly the same date each year. They will return to the exact territory they bred in the previous year.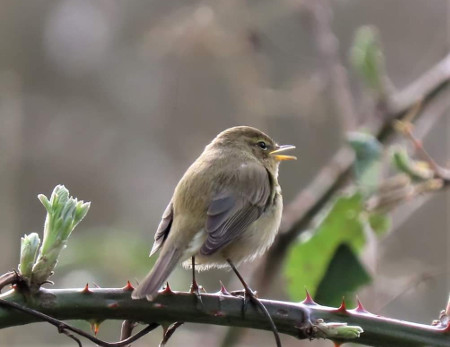 Chiff Chaff Courtesy of Josie Liebrick
Nature is never dull. Often very surprising but most of all incredibly beautiful.
And it is free entertainment.
GATLEY CARRS BIRD REPORT JANUARY/FEBRUARY 2022
January 2022 was the warmest on record. During the month we had 2 serious Winter Storms bringing in strong winds and heavy rain. Certainly not good weather for walking around the Carrs with so many trees that could blow down. Of course birds hunker down too so it is pointless trying to see them. Eventually I managed to get there hoping to see the Mandarin Duck pair that had arrived at the Pond. They were origininally reported earlier in the month by James Arkwright Although they stayed throughout January they were very elusive and I never got to see them. On my next visit it was still very quiet around the Reserve. I counted 20+ Mallard, 6 Moorhen and 3 Domestic Duck. A Grey Heron was by the Pond as well as the ever present Ring-neck Parakeets.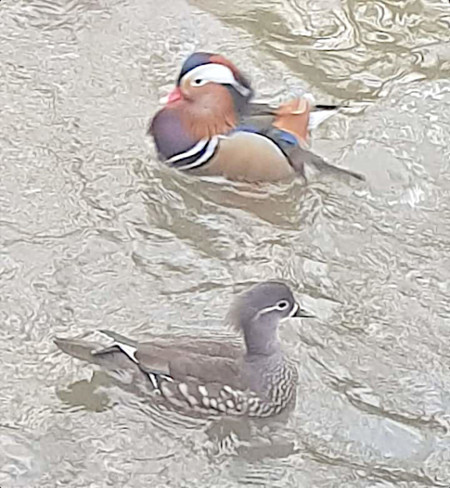 Image courtesty of James Arkwright
On the 29th of January it was the RSPB Garden Bird Count. A few of us met at the Carrs to carry out the walk around the Reserve to see how many species we could find. The weather was quite kind to us so it was really pleasant on the Reserve. The total number of species seen was 20! The best bird of the day was a Sparrowhawk. Peter Owen, Angela Bent and I were on the car park when I spotted a bird on top of a tree in front of us. Obviously it had tried to take a bird. It flew up and soared above us, circled a few times, then moved away. Such a lovely sight to see and much enjoyed.
Early February we had the third Winter Storm which was the worst of all. it produced up to 90mph winds which caused so much damage to many Nature Reserves. Eventually it did quieten down and became quite pleasant. On my first visit to the Reserve, on the Pond, I saw 15+ Mallard, 3 Domestic Duck, 8 Moorhen and 4 Canada Geese had arrived. Around the Reserve quite a few birds were starting to sing including Blackbird, Robin, Dunnock, Goldfinch, Woodpigeon and Collared Dove. Along the brook path a pair of very noisy Ring-neck Parakeets were around and I do not doubt that they are already nesting nearbye. A Nuthatch was also in this area close to the Dipping Pond. It was also very nice to see a Blackbird on the ground amongst the Snowdrops that were in flower.
Spring is just around the corner and a great time to be at Gatley Carrs.
Chiff Chaff Courtesy of Josie LiebrickNature is never dull. Often very surprising but most of all incredibly beautiful.And it is free entertainment.